Inquiry
TEL +886-2-6600-7574 +886-2-6600-7513
Email info_Auto@robot.com.tw
4-axis&nbsptween&nbspfunction&nbspPC-Based&nbspcontrol&nbspcard
MC8141P(M)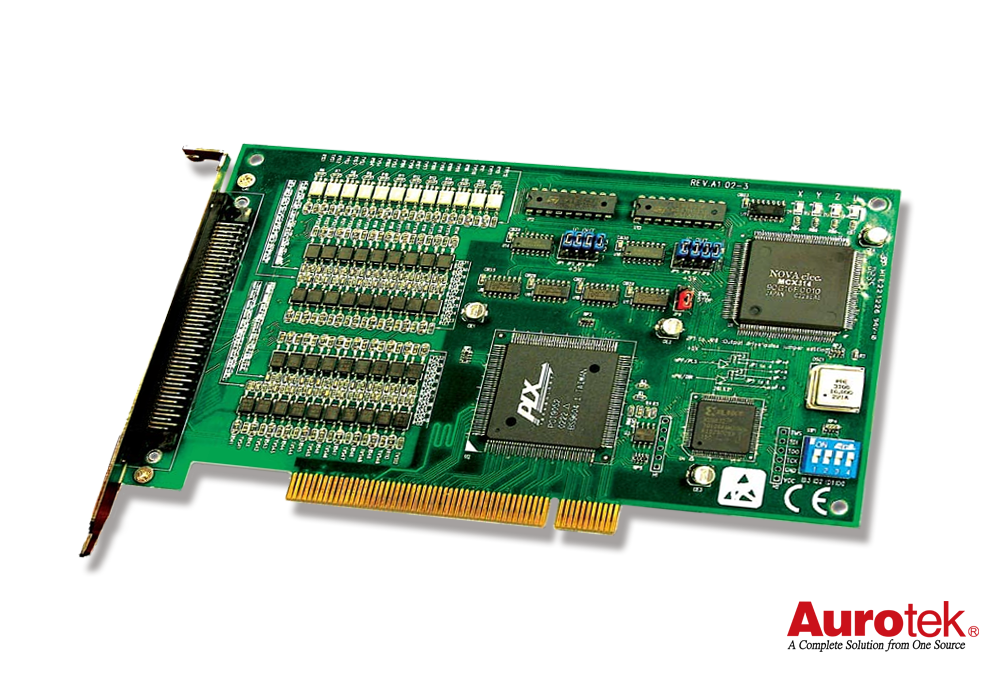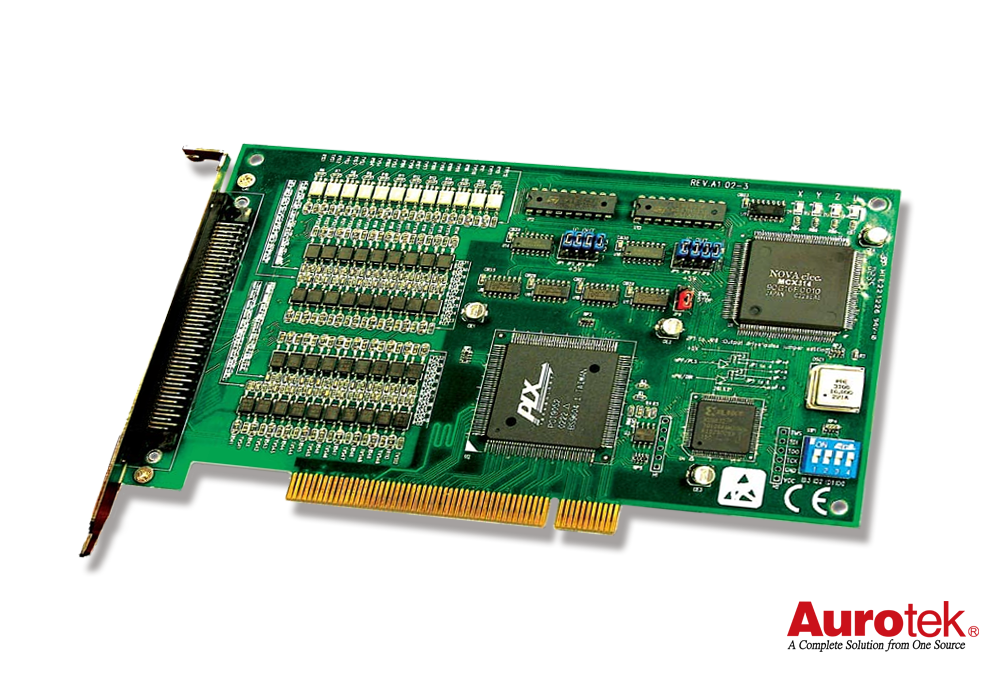 Product
-PCI interface,4 axis independent driver, speed controllable 、Up / down speed driver
-Interpolation : Any 2 axis or 3 axis linear interpolation, any 2 axis circular interpolation , interpolation speed up to 4 MPPS
-Location management, soft-limit, auto return origin, Synchronized actions, External operation signal, servo motor connect, real-time monitor.
Highest Controlling Speed: 4MPPS
The motion control boards control the speed of drive-pulse output from 1PPS to 4MPPS with a stable trapezoidal drive. The velocity accuracy is controlled within ±0.1% when the speed is from 1 to 8 KPPS. Different drive speeds can be set, and altered in a designated drive command.

Simple Drive Commands
Two drive commands, index drive and continuous drive, can be used to perform the drive-pulse output. The speed acceleration / deceleration will happen if the setting drive speed is higher than the initial speed; the speed will be constant if the setting drive speed is lower than the initial speed. The drive-pulse output speed (PPS) is decided by the setting drive speed setting range.

Two 24-bit Position-Managing Counters
Two 24-bit up/down counters are equipped for each axis: the logical position counter for pulse output and the real position counter for pulse feedback. The circuit for pulse feedback, with a high-speed photo coupler, can be connected with an A/B quadrature encoder of line-drive output system.

Functions of Compare Register and Software Over-Travel Limit
For each axis, three compare registers with numeral values are equipped to compare the position counts. During the driving, these registers are a convenience for the in-position measurement or for the machine works handling. Two of these three compare registers are equipped with + or - side software over-travel limit.

Line-Driver and Drive-Pulse Output
Line-driver 26LS31 is adopted for drive-pulse output. Photo coupler or other line-drivers are possible to be connected.
Specification
PCI BUS介面
資料寬度16BIT
I/O佔有位址16BYTE
中斷選擇IRQ 3, 4, 5, 6, 7, 10, 11, 12, 14, 15
2軸/3軸直線補間
補間範圍 : 各軸 -8,388,608 ~ +8,388,607
補間速度 : 1 ~ 4MPPS
補間精度 : ±0.5LSB以下(在全補間範圍內)
圓弧補間
補間範圍 : 各軸 -8,388,608 ~ +8,388,607
補間速度 : 1 ~ 4MPPS
補間精度 : ± 1 LSB以下(在全補間範圍內)
2軸/3軸位元模式補間
補間速度 : 1 ~ 4MPPS(但依CPU 資料寫入時間而定)
其他的補間相關機能
可選擇任意軸
線速一定
連續補間
單步補間送出(指令/外部訊號)
驅動輸出脈波(CLK= 16MHz時)
加/減速度 : 125 ~ 500×106PPS/SEC
初速度 : 1 ~ 4×106PPS
驅動速度 : 1 ~ 4×106PPS
輸出脈波數 : 0 ~ 268,435,455(定量驅動)
速度曲線 : 等速/線性加減速/拋物線S形加減速驅動
定量驅動之減速模式 : 自動減速/手動減速
可變更驅動中的輸出脈波數、驅動速度
可選擇獨立2脈波/1脈波方向方式。
可選擇脈波之理論位準。
編碼器輸入脈波
輸入線路:高速光耦合輸入,可連接差動的LINE DRIVER
可選擇2相脈波/正反脈波輸入。
可選擇2相脈波1﹐2﹐4遞倍。
位置計數器
理論位置計數器 (輸出脈波用)
計數範圍 : -2,147,483,648 ~ +2,147,483,647
實際位置計數器 (輸入脈波用)
計數範圍 : -2,147,483,648 ~ +2,147,483,647
隨時都可讀寫。
比較暫存器
COMP+暫存器 位置比較範圍 : -2,147,483,648 ~ +2,147,483,647
COMP-暫存器 位置比較範圍 : -2,147,483,648 ~ +2,147,483,647
將與位置計數器之大小予以狀態輸出及訊號輸出。
可作為軟體極限來運作。
中斷機能(補間除外)
中斷要素 :
輸出了一個驅動脈波時
位置計數器≧COMP-變化時
位置計數器<COMP-變化時位置計數器<COMP+變化時
位置計數器≧COMP+變化時
加減速驅動中之等速開始時
等速結束時
驅動結束時
上述各要素均可選擇有效/無效。
利用外部訊號操作驅動
可利用EXPP、EXPM訊號操作正/負方向之定量/連續驅動
輸入線路:光耦合+CR積分濾波線路,可使用機械接點。
外部減速停止/立即停止訊號
IN0 ~ 3 各軸各4點。(IN0為編碼器Z相輸入用)
輸入線路:光耦合+CR積分濾波線路(IN0為高速光耦合輸入)
可選擇各輸入之有效/無效、理論位準,亦可使用於汎用輸入訊號。
伺服馬達驅動器用輸入訊號
ALARM(異常),INPOS(位置決定完畢)
輸入線路:光耦合+CR積分濾波線路
可選擇輸入訊號之有效/無效、理論位準。
汎用輸出訊號
OUT 4~7 各軸各8點(其中4點與驅動狀態輸出訊號端子共用)
驅動狀態訊號輸出
DRIVE(驅動脈波輸出中)
ASND(加速中)
DSND(減速中)
CMPP(位置≧COMP+)
CMPM(位置<COMP-)。
驅動狀態亦可由狀態暫存器讀取。
超出極限訊號輸入
正方向、負方向各1點。
輸入線路:光耦合+CR積分濾波線路
緊急停止訊號輸入
全軸EMGN共用1點,全軸之驅動脈波予以立即停止。可由J4選擇為a/b接點。
輸入線路:光耦合+CR積分濾波線路
驅動電源電壓
±5V±5%(消耗電流700mAmax)
基板外形尺寸
161×121.9mm(不包括固定鐵片及連接器)
輸出入連接器型式
FX2B-100PA-1.27DS(HIROSE)
附屬品
FX2B-100SA-1.27R (HIROSE) 1.2M 排線